Patty Griffin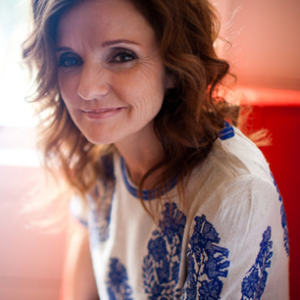 Кратко
Griffin is from Old Town, Maine, United States, next to the Penobscot Native American reservation. She is primarily a guitarist, pianist, and vocalist. The youngest child in her family with six older siblings, she bought a guitar for $50 at age 16. She sang and played, but had no inclination at the time to become a professional musician. After a short marriage, which ended in 1992, Griffin began playing in Boston coffee houses, and was scouted by A&M Records, who signed Griffin on the strength of her demo tape. When the finished studio recordings were submitted to A&M, the company execs thought it to be overproduced, so Nile Rodgers and A&M instead released a stripped-down reworking of her demo tape, as an album called Living with Ghosts.
Griffin`s second album, 1998`s Flaming Red was a departure from the acoustic sound of Living with Ghosts, with a mix of mellow songs along with other, very high tempo rock and roll songs. The title track, "Flaming Red" is an example of this, beginning with an even beat until it increases to a fevered pitch of emotion. "Tony" from this album is also featured on the charity benefit album Live in the X Lounge.
Her third record, Silver Bell, had a similar sound to its predecessor. It was released by A&M only 13 years after it was recorded (and well after it leaked into the public domain). A&M dropped Griffin`s contract after Silver Bell was recorded, but she was picked up by Dave Matthews` ATO Records. Griffin re-recorded songs from that album for later releases such as "Making Pies", "Mother of God," "Standing," and "Top of the World" and others have been most famously covered by the Dixie Chicks. Copies of the unreleased Silver Bell were leaked and bootlegged, and can now be easily acquired via the "B&P" (Blanks and Postage) method on message boards. In August 2013, it was announced UMe planned to release Silver Bell in October 2013 and producer Glyn Johns had mixed the album for the new release.
Four albums followed on ATO, including 2002`s 1000 Kisses, A Kiss in Time (2003), Impossible Dream (2004), and Children Running Through (2007).
In 2004, Griffin toured with Emmylou Harris, Buddy Miller, Gillian Welch and David Rawlings as the Sweet Harmony Traveling Revue. On February 6, 2007, she released Children Running Through. The album debuted at #34 on the Billboard 200 with 27,000 copies sold. Of the album, Griffin told Gibson Lifestyle, "I just kind of felt like singing what I wanted to sing, and playing how I wanted to play. It`s not all dark and tragic. It`s a different way for me to look at things. Getting old—older, I should say, I`m not so serious all the time." It was also said that the album was inspired by her childhood days.
Griffin`s songs have been recorded by artists such as Irish-born singer Maura O`Connell ("Long Ride Home"), Linda Ronstadt ("Falling Down"), the Dixie Chicks ("Truth No. 2," "Top of the World," "Let Him Fly"), Bette Midler, Melissa Ferrick and Missy Higgins ("Moses"), Beth Nielsen Chapman, Christine Collister, and Dixie Chicks ("Mary"), Mary Chapin Carpenter ("Dear Old Friend"), Jessica Simpson ("Let Him Fly"), Martina McBride ("Goodbye"), Emmylou Harris ("One Big Love", "Moon Song"), Bethany Joy Galeotti ("Blue Sky"), The Wreckers ("One More Girl"), Keri Noble ("When It Don`t Come Easy"), Joan Osborne ("What You Are"), Solomon Burke ("Up to the Mountain"), and Miranda Lambert ("Getting Ready"). Kelly Clarkson performed "Up to the Mountain" with Jeff Beck on guitar, accompanied by some orchestration on the Idol Gives Back episode of American Idol, and the live recording was released as a single immediately afterwards, reaching #56 on the Billboard Hot 100 in its first week and giving Griffin her highest charting position as a songwriter. (The audience gave Clarkson a standing ovation following her performance.) Griffin`s version of the song was featured on the fourth season, episode 11 of the popular ABC television show, Grey`s Anatomy.