The Bughouse Five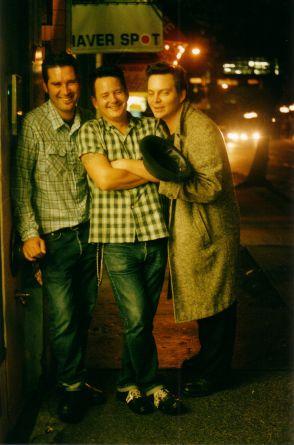 Кратко
For over a decade The Bughouse 5 have enjoyed a devoted following in their home base of Vancouver BC. Their music a mix of rockabilly, blues, swamp rock, tex mex,beat inspired, true story blues poetry,and straight ahead,warts and all, rock `n` roll, has won over audiences,from small and big town Canada,to big town U.S.A. giving their all at varied venues they`ve played. Trips across Canada and down the west coast and the U.S. southwest have proven that the band is much more than a local favorite. Now music fans as far east as St. John`s, New Brunswick,as far north,as the Yukon Territory, and as far south as San Diego, and Austin Texas are affirming what Vancouver fans have known for a long time: The Bughouse 5 are still rocking and dedicated to perpetuating their love of North American roots rock, 16 years,gone, and onward
So who are these guys?
Vocalist Butch Murphy, was a member of one of Canada`s premier rockabilly bands The Nervous Fellas as well as previously playing bass and/or singing with his brothers, Gene and Darren Murphy, in the Last Wild Sons,as well as playing bass with Herald Nix and Shelley Campbell, and has the kind of stage presence that one can only get from a thousand shows on the road. With a voice that is both soulful and powerful, Butch is one of those rare front men that demands your attention.
Guitarist Joe Rotundo earned his reputation has a hot picker playing at the Railway clubs saturday afternoon roots/rockabilly jam and with his surf instrumental band The Modelos. Joe has toured countless honky tonks and blues bars throughout Canada and the U.S.A.
Taylor Little is one of the most respected drummers in Vancouver, before co founding the Bughouse 5, with Butch Murphy, Ronnie Hayward,and Russell Schindel, he was best known for his work with Art Bergman and The Payola$.
Kevin Grant`s rock `n` roll stage presence has a charm and sound that keep the audience wanting more. Taylor and Kevin make up the perfect rhythm section: swinging, energetic, and rock solid.
The Bughouse Five has also added a fifth member, Mike Kenny, on keyboards, accordian and rythm guitar, and we hope you will dig our collective love of roots rock and roll.
Our distinctive sound can be heard on any of the Bughouse 5`s four CD`s: Solid, Dark Days Passing, Everything Must Go, and Bull Mercury.
The band has finished recording its fifth CD, 24 Hour Charlie which will be released sometime in November 2006 on Northern Electric. We`ve included some samples we`ve recorded so far. Take a listen and let us know what you think!