George Highfill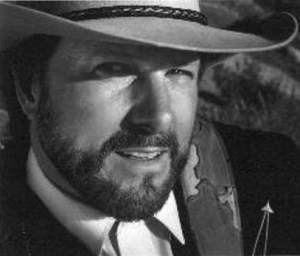 Кратко
George Highfill sings country and western music. He sings real country and western music about lovers, losers and gamblers, honky tonks, train whistles and hard times. The fact is, George is one of the best and most promising of the new traditionalists, a singer and songwriter with his roots firmly planted in the heartland of America. "My grandfather was a fiddle and guitar player in a turn-of-the-century country western band. My grandmother was well-known locally as a poet, and my mother was a pianist in the local church. Music was a big part of my childhood".
After writing his first song at ten, he polished lyrics in college English courses before heading to Music City, USA. After one year as a staff writer for Tree Publishing, George returned to his native Oklahoma as the first director of the newly-opened Hank Thompson School of Country Music at Rogers State College in Claremore, a small town near Tulsa.
Six years later, at the beginning of the Urban Cowboy boom, George arrived in Los Angeles, playing "hard core country places" to packed houses of "hard core country fans". He soon found himself in demand as a session musician working on albums with Ricky Skaggs, Chris Hillman, Maria Muldaur and Billy Swan. He opened concerts for George Jones, Merle Haggard, the Judds, and Carlene Carter, among others. He also appeared on a songwriter night hosted by Juice Newton.
His own music was getting lots of notice and "Waitin` Up", a Highfill original, ended up on a pioneering compilation album, "A Town South of Bakersfield", produced by Pete Anderson. It introduced talents like George as well as Dwight Yoakum and Rosie Flores. Pete liked George so much he began producing a full album, and before the album was finished, Warner Bros. Nashville President, Jim Ed Norman, was showing his interest. Featuring six original tunes and four well-picked covers, George`s Warner Bros. debut album contained his first single, "Waitin` Up".
With "Waitin` Up" gaining popularity in Europe as well as in the United States, George was featured on Nashville Network`s "Nashville Now", "New Country", and "Crook and Chase". He was also featured in a TV special called "Oklahomans" on KTUL, Tulsa. George was interviewed in a special Oklahoma Educational Television Association presentation from the Cains Ballroom (Bob Will`s famous Dance Hall) in Tulsa, OK.
George began visiting Germany and Switzerland, playing country music fairs for many appreciative fans. He was the headline act in Scandinavia. With many requests for more, George went back to work in the studio and with Al Perkins (formerly with Emmylou Harris), produced a second album, "George Arlis Highfill", on Church Street Records.
George`s European visits have become an annual tradition with more fans turning on to his traditional, pure country each year. He`s featured, with a cut from his new album, on the CD compilation, "Mr. Country Music" along with George Strait, Mark Chestnutt, and others with a cut from his new CD. George has had songs in 4 different movies. "Masters of the Universe" included only two songs, Highfill`s "Waitin` Up" and Jimi Hendrix`s "Purple Haze". George can also be seen in an episode of the Warner Bros. "Lois and Clark" television show and the number one movie remake of the "Beverly Hillbillies". In February 1999, he appeared on an episode of "The Love Boat: The Next Wave" with Billy Ray Cyrus.
George`s music was also featured for two months on an American Airlines in-flight radio program and in the "American Way" magazine.
George is cause for real celebration for country music fans who won`t settle for less than the real thing!