Supernatural: Äíåâíèê Äæîíà Âèí÷åñòåðà


http://fargate.ru/supernatural/
supernatural-fan-2010@yandex.ru
FarGate.RU Exclusive - Q&A with Tahmoh Penikett
Many of Supernatural fans have fall in love with ambiguous character and his tragic backstory – angel Gadreel, amazingly portrayed by Tahmoh Penikett.
During the last Supernatural convention in Italy, Fargate.ru portal representative (Ingunn) was able to arrange an interview deal with the actor. Later on we sent him a list of questions asked by our website`s visitors. Finally, Tahmoh came back to us with his answers and now we are happy to present this interview for our audience.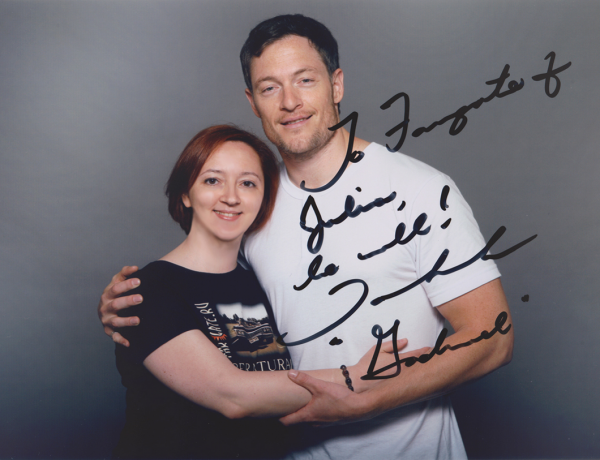 FarGate.RU: Dear Tahmoh, greetings from the Russian-speaking audience! We really appreciate you taking time from your busy schedule to answer some questions for us. You have a massive fan base here in Russia; we love your work as an actor and follow your career with a sincere interest.
TAHMOH: My pleasure! I`m flattered that I have a fan base in Russia. I`ve always wanted to travel to Russia and hope that when I do I can really spend some quality time there.
FarGate.RU: At first, we would like to go back and revisit a glorious days of «Batterstar Galactica». This series has finished its run awhile ago but for many of us it still has a special place in our hearts. Your character undeniably became one of the symbols of this show, the cult figure in that genre. So our first questions would be focused on that project.
In the TV show «Castle» your character is involved in a very aggressive fight with Kate Beckett on the roof of the building. Was that some kind of nod to the fans of «BG» – reference to the first season episode where Six fighting Eight, or it just a coincidence?
TAHMOH: I think it`s just a coincidence. I love how you die hard BSG fans find the parallels. That was the first day that I truly got to work with Stana Katic. I can honestly say that she is one of the kindest, most charming and hardest working actors i`ve had the pleasure to work with. We were doing a dangerous and complex fight scene 17 floors above Los Angeles and she was a true professional. Stana actually wanted to be the one hanging over the side of the building which one of the Executive Producers and Director of that episode, Rob Bowman, was having nothing of. That said, that was Stana getting thrown to the ground by me and bashed off the wall in the second fight scene.
FarGate.RU: Racetrack from «BG» was deeply in love with your character – Helo, but it just did not work out for them. Was there any alternative scenario for their relationship discussed by creative team or Hilo-Afena storyline has always meant to be prevalent?
TAHMOH: That was a choice that Leah Cairns made and a strong one. When you`re working on a show with a cast as big as Battlestar and you`re one of the supporting characters, it`s smart to bring in your own choices to strengthen your B or C story line. Real fans notice that extra layer of work and want to know more.
FarGate.RU: Don`t you think that TV shows these days are more thoughtful, profound, captivating and interesting then majority of Big Screen movies? What do you think about this tendency in entertainment business?
TAHMOH: I think there`s a real transition happening where cable TV is producing some of the most provocative and captivating writing on the screen. People have beautiful home entertainment systems and are hard pressed to leave the comfort of their home to pack up the kids and drive to the theatre and spend a lot of money of the Cinema experience. It`s a great time for Television, if we can even call it that anymore as most people these days are downloading and streaming all their favourite series and movies online. If anything, the precedent for exceptional writing and acting is constantly being raised with shows like BSG, Breaking Bad and Sopranos to name a few.
FarGate.RU: What is your opinion on modern film industry?
TAHMOH: Well, like I touched on in the previous question it is going through significant changes and it`s becoming harder and harder to lure people to the Cinema experience. Again though, the fact that Cable is setting the bar so high it can only encourage better films and writing hopefully.
FarGate.RU: With whom of the modern movie stars would you like to work in the same project?
TAHMOH: There`s so many to mention really. I love Jaqouin Phoenix, Olivia Wilde and Mike Shannon to name a few. I also recently started to watch the Canadian series «Orphan Black» starring Tatiana Maslany. I think she`s one of the brightest young talents to come along in a long time. I`d love to work with her.
FarGate.RU: Can you refer to any actor as your mentor or inspiration?
TAHMOH: Edward James Olmos. Period. The man inspires me daily and has been an amazing friend and mentor.
FarGate.RU: Do you take a personal creative approach when work on the character or do you prefer tofollow the script strictly?
TAHMOH: I always take a personal approach to any role I do. There`s the given circumstances in the script and there`s the back story you do as an actor. It can only layer and support your performance. That said, occasionally you read a script or get a character where you just understand and connect to it instantly. Helo felt like that for me.
FarGate.RU: Do you have a dream role in mind: Hamlet, Obi-Van Kenobi, Indiana Johns, etc?
TAHMOH: Han Solo would be awesome, I don`t know that I can do anywhere near the justice that Harrison did, but it would be a blast. I`d love to play a Super Hero or villain also.
FarGate.RU: Do you have a role you wish you'd not taken?(less favourite, even harmful for your career?)
TAHMOH: There`s been a few, but i`m not one to live with a lot of regret and i think each one happened for a reason and the key is find the lesson in each one.
FarGate.RU: What films in your opinion are the best of all times of word cinematography.
TAHMOH: If i`m understanding the question right, some of my favourite films of recent years in terms of Cinematography were the Swedish film «Let The Right One In». Being a born and raised northern boy, I thought the DOP and Director of that film Tomas Alfredson, absolutely captured the stillness and solitude of the North. I also loved the Director Daniel Barber`s style in «Harry Brown», starring Michael Caine.
FarGate.RU: If you`d have a choice, what kind of area of work you prefer: theatre, TV or movie?
TAHMOH: A balance of all three.
FarGate.RU: Can you kindly share with us in what new projects we`ll see you next season?
TAHMOH: I`m in a new series, «Strange Empire» that i`m quite excited about. The show runner and creator, Laurie Finstad, was the creator of the award winning series Durham County. I can`t speak too much on it but it`s set in 1869, and it`s the first time I`ve done anything in this period. It is an incredibly timely story and needs to be told.
FarGate.RU: What is your vacation preferences? Are you traveler-adventurer or do you like quiet time somewhere on the beach?
TAHMOH: A little bit of both really. I did a fair amount of back packing when I was younger and i`m a very active person. I do love to lay back with a good book, cold drink and chill in the sun though.
FarGate.RU: Do you have any «places to visit before you die» in you bucket list?
TAHMOH: Argentina. Peru. Russia. More of Japan. Too many to mention.
FarGate.RU: What do you like doing in your free time? Do you have any exiting hobby?
TAHMOH: I practice Martial Arts and enjoy the outdoors as much as i can.
FarGate.RU: You did am amazing Job playing Alar in «The Portal». The way he was dressed remindedme of some of the 80`s Fantasy Films (with the ñape, leather and so on). Is there a little bit of Tahmoh in this outfit or it just a Costumes Crew creation?
TAHMOH: No Tahmoh in this outfit other than the physical Tahmoh, but who doesn`t like wearing a bad ass cape and playing a Wizard every once in awhile?!
FarGate.RU: Congrats to the DGC Awards Nomination «Best Short Film» for «The Portal». Are you planning to go to the Awards Presentation (or could we hope that you will be some of the special guests)? Or you are not really that interested in this kind of events?
TAHMOH: Thank you. We shall see.
FarGate.RU: Are you interested in mysticism and supernatural? Have you ever experienced anything supernatural, hard to explain event in your life?
TAHMOH: Many.
FarGate.RU: Did you like your Angel character on «Supernatural»?
TAHMOH: «Supernatural» was nothing but a great experience for me. I loved playing Gadreel and working with that crew and cast.
FarGate.RU: Where did you get inspiration from when working on Gadreel? Did you try to make this character similar to his biblical prototype?
TAHMOH: Somewhat, but physically I took mostly from what Jared had already established when on the day I was about to shoot my first scene, the Director showed me the very specific movement and cadence that Jared was doing as Ezekiel. The shitty thing was that it was 5 minutes before I was about to start my scene and I had to instantly adapt and incorporate it.
FarGate.RU: Pretty much you played 2 roles in «Supernatural»: Gadreel and his vessel, a regular guy. Was it hard to switch back and forth between such a different characters or it just has added an extra spice to the roles?
TAHMOH: It wasn`t that hard to switch because I played the regular guy very little.
FarGate.RU: Nothing is really stays dead forever in «Supernatural». Would you like to have Gadreel back in season 10?
TAHMOH: I don`t know that`ll happen, but if it did i`d happy to play him again.
FarGate.RU: You have a number of such a different roles in your acting portfolio: from regular people such as FBI agent, detective, solder to mystic characters like Gadreel. Would you say there are different approaches for «getting in touch» with certain type of character? Or it`s more important to you as an actor to know who the character is, not what he is.
TAHMOH: There are different approaches indeed. Sometimes if you`re having a hard time finding what drives him, what he`s trying to achieve, then approaching it from a physical way can make you discover things.
FarGate.RU: Have you seen any «Supernatural» episodes before you landed a guest role in this show?
TAHMOH: I have. It`s been shot in my home Vancouver for ten years. Almost impossible not to catch some episodes on TV.
FarGate.RU: Gadreel is making tough decisions a few times and it leads to a serious circumstances:help Dean, hide his identity, resurrect Castiel, come back to the bunker and help Cass and Winchesters to defeat Metatron). What scene was the most important one for Gadreel, what was the most enjoyable to play?
TAHMOH: There was many and some more challenging than others. No matter what though, I tried to play him with some integrity. Gadreel truly wanted to be redeemed and to do the right thing. I think he finds that redemption in his final scene.
FarGate.RU: Resently you had a chance to experience Supernatural Convention in Rome. How did you like the experience of meeting Supernatural fans?
TAHMOH: Absolutely loved it and in such an incredible city. Cannot wait to go back!
FarGate.RU: Many guest stars are praising a friendly, fan, welcoming environment on «Supernatural» set. What was your experience? How did you like working with Jared and Jensen as lead actors?
TAHMOH: The boys are awesome. Loved working with both of them, they`re professional but there`s always a light element on set and they take every chance to laugh and take the piss when they can.
FarGate.RU: Is there any chance you come with visit to Russia?May be, as a tourist?
TAHMOH: Love to.
FarGate.RU: Seems like you had come from family interested and actively involved in politics. Do you consider a possibility of pursuing some kind of political career (may be in future) besides acting?
TAHMOH: It is indeed in my blood and i`m a passionate person about issues that i believe in. I don`t plan on it now, but you never know.
Îðèãèíàë — Ingunn